Life Spring Yoga Institute

Welcome to Life Spring Yoga Institute (LSYI), a renowned center for Yoga and Wellness Therapy in Vadodara. Established in 2007 by the accomplished yoga teachers Dr. Ritesh Patel and Mrs. Poonam Patel, this Institute is a testament to their shared passion for yoga and their desire to share their knowledge with others. Here, ancient yogic principles seamlessly blend with modern concepts, creating a unique and exceptional learning experience. Driven by their vision, the institute has gained a reputation for excellence in the field of yoga and wellness.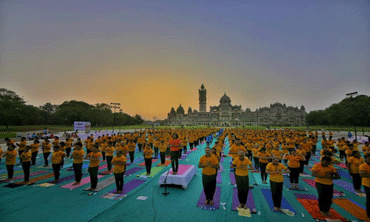 Celebrating yoga day in Vadodara since - 2015
Under the guidance of Dr. Ritesh Patel and Mrs. Poonam Patel, LSYI offers a wide range of programs and therapies that cater to individuals of all levels and backgrounds. Whether you are a beginner or an advanced practitioner, their expert instructors will guide you on your yoga journey with expertise and care.
With a focus on holistic well-being, LSYI integrates physical postures, breathwork, meditation, and mindfulness practices. This comprehensive approach allows students to explore the depths of yoga, nurturing their mind, body, and spirit.
Nestled in the heart of Vadodara, the LSYI welcomes visitors to experience its vibrant yoga studios and wellness centers. Whether you're a beginner or an expert yogi, the institute is dedicated to supporting all yoga enthusiasts on their journey to a healthy lifestyle.
Since its establishment, the LSYI has consistently achieved remarkable milestones in the field of yoga education. With 18 successful yoga instructor courses already conducted, the institute is now welcoming registrations for its upcoming 19th Yoga Instructor Course. Additionally, it has conducted 30 yoga professional workshops, providing valuable continuing education opportunities for yoga enthusiasts.
Affiliated with the esteemed Vivekananda Yoga Anusandhan Samsthan in Bangalore, the LSYI upholds a high standard of yoga education. It is also recognized as an associate center of the Asian Yoga Therapy Association (IYTA), further emphasizing its commitment to excellence in yoga therapy.
Renowned media outlets, including India Times and Simply Gujarati, have praised the institute's exceptional wellness services. The core team consists of highly skilled yogis, each specializing in their unique areas of expertise. From teaching practical techniques to showcasing ancient yoga practices, the institute's instructors provide guidance to maximize the benefits of yoga.
In summary, the LSYI in Vadodara is a bustling center of energy and wellness. With a range of programs and a team of gifted yogis, it provides a welcoming space for individuals to embark on their yoga journey and embrace a holistic approach to well-being.