Founders Life Spring Yoga Institute
Meet the dynamic founders of Life Spring Yoga Institute in Vadodara, Dr. Ritesh Patel and Mrs. Poonam Patel. In a powerful partnership, a dedicated couple is strengthening the pillars of Life Spring Yoga Institute in Vadodara. Driven by a shared vision and passion for yoga, they have created a space of transformation and growth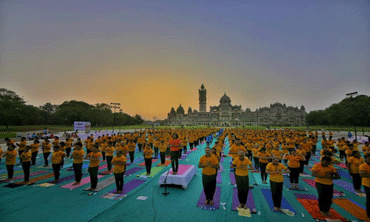 Strengthening the pillars of
Life Spring Yoga Institute since 2007
Through their unwavering commitment, this couple has nurtured LS Yoga Institute into a thriving center for yoga and wellness. With their combined expertise and experience, they provide a solid foundation for students and practitioners to embark on their yoga journeys.
Together, they embody the principles of unity and collaboration, fostering a supportive and inclusive environment at the institute. Their synergy empowers the growth of each individual who walks through the doors of LS Yoga Institute.
With their guidance, students receive comprehensive and personalized instruction, ensuring a holistic approach to yoga and well-being. The couple's dedication to the institute's success is evident in the positive impact it has on the lives of its students and the community as a whole.