International Yoga Teacher Trainer – Yoga Therapist
Dr. Ritesh Patel, an accomplished Yoga Teacher Trainer and Yoga Therapist, has over 21 years of experience as a Yoga Instructor and more than 12 years as a yoga teacher trainer.
His reputation as a globally renowned Yoga Trainer is well-deserved. He serves as a visiting faculty at S-VYASA Singapore and Adi Yoga Hanoi and Vietnam, and is a valued member of The International Association of Yoga Therapist (IAYT). With an impressive array of qualifications, including degrees in Ayurvedic Medicine, Yoga Naturopathy, and a Post Graduation Diploma in Wellness Management Rehab and Functional Training, Dr. Ritesh Patel has continually pursued knowledge in the field of yoga. His MSc in Yoga Therapy from Swami Vivekananda Yoga Anusandhan Sansthan, Bangalore (Yoga University), further deepened his understanding of the science of yoga.
Dr. Ritesh Patel - 21 Years of experience
Key Takeaways: Elevate Your Yoga Teaching with In-Depth Insights
Asana Deconstruction: Break down asanas into their fundamental components, understanding their building blocks for more effective instruction.
Asana Analysis: Learn to critically analyze postures from an anatomical standpoint, enhancing your ability to guide students with precision.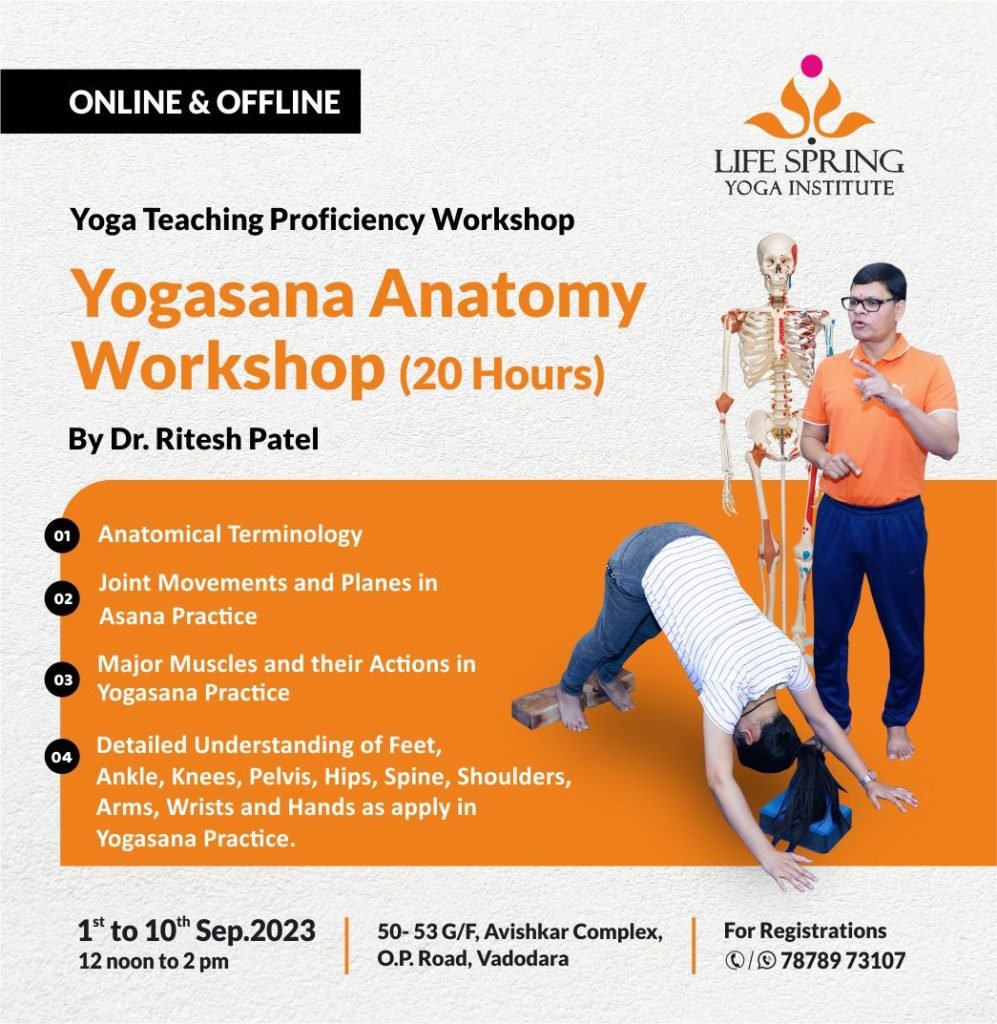 Having trained under expert Yoga Masters, Dr. Ritesh Patel's expertise is evident in his teaching and yoga therapies. With over 15,000 hours of yoga experience, he has embarked on a remarkable 21-year journey as a Yoga Teacher and Trainer at Life Spring Yoga Institute in Vadodara. His dedication to sharing his knowledge extends to training trainers in cities like Delhi and Mumbai.
His Yoga Therapies and Anatomy Classes have received much acclaim. This reflects his mission to help individuals find inner peace and achieve fitness through the transformative power of yoga.
Together with Mrs. Poonam Patel, Dr. Ritesh Patel has created Life Spring Yoga Institute as a sanctuary for individuals seeking physical and spiritual well-being. Their passion for yoga and commitment to guiding others on their yoga journeys make them an inspiring force in the yoga community.