Life Spring Yoga in Vadodara
Institute | Studio | Classes | Wellness Center
Since 2007
Blending ancient ideas and modern concepts of yoga, this institute in Baroda is par excellence! Welcome to Life Spring Yoga Institute – a leading and reputed center for Yoga and Wellness Therapy founded in 2007 by a versatile and very successful yoga teacher couple Dr. Ritesh Patel and Mrs. Poonam Patel. With a common passion for yoga and a dream for spreading their knowledge to others, together they created Life Spring (LS) Yoga Institute.
Life Spring Yoga Institute, Vadodara is a dedicated yoga training Institute which aims at an individual's holistic development by imbibing the ancient science of yoga tradition with modern wellness therapy, essential for a healthy and balanced life. What sets this Institute apart from others is the trust and reliability factor as shown by the amazing positive feedback from their students. LifeStyle assessment and correction is their USP. A highly recommended program for lifestyle risk assessment and correction. Any health program cannot be complete without food and nutrition correction. Yoga therapy in a safe and conducive environment has always been their key service from the beginning. Also, the Institute has never compromised with the quality of Yoga trainers. They have always taken the services of university qualified yoga therapists and trainers. Over the years, the number of students has only grown. It offers a diverse range of yoga accredited courses and wellness programs and even online yoga courses and workshops. These are designed based on different factors such as fitness requirements, age groups, lifestyle, and exercise interests. They have separate courses for kids, students, family, senior citizens, and even corporate.
The LS Yoga Institute is located in the heart of the Vadodara city. Anyone is welcome to visit their center to see the magnificent yoga studios and wellness centers which are always bustling with energy. Whether you are a novice at yoga or an expert yogi, LS Yoga Institute helps all yoga enthusiasts attain a healthy lifestyle at every step of their journey. Life spring has conducted 14 yoga instructor courses until now, 30 yoga professional workshops as a part of continuing yoga education. Since its inception, the Institute has achieved many commendable milestones. In 2011 the Institute got affiliated to Vivekanand Yoga Anusamdhan Samsthan Banglore, to Conduct a Yoga instructor course. Vyasa(vyasaa.org ) is a parent institute. of SVYASA Bangalore. LSYT is also an associate center of the Asian yoga therapy association IYTA. It has been recommended by India Times (twice) as one of the best Wellness Studio – Yoga Institute in Vadodara – 2012 & 2014. Simply Gujarati a supplement of India today magazine has featured the Yoga Institute twice and recommended their innovative yoga wellness services in 2012 and 2015. The core team comprises amazingly gifted yogis, each having their area of specialization. Their Yoga Instructors teach practically while exhibiting quick and simple techniques to get the maximum benefit from yoga; all whilst still incorporating the ancient yoga practice. The online yoga teacher training course has renowned yoga masters from all over the world.
Co- founder Life Spring Yoga
Together Strengthening the pillars
Life Spring Yoga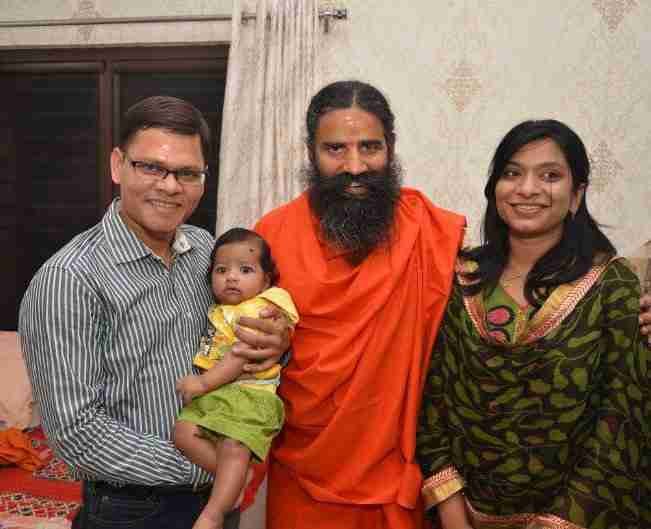 Sri Ramdev baba, Dr. Ritesh Patel & Mrs. Poonam Patel & son.
Other Activities conducted by Life Spring Yoga
● Lifestyle assessment and correction camp 2008
● Summer Kids Camp in 2008,2009,2010, 2011
● Number Participation in 108 Sun salutation organized by Art of living on world health day
● Workshop on menopausal weight gain
● Talk on Diet and nutrition for health and weight loss.
● Workshop on healthy and nutritious cooking
● Celebration of International yoga day every year, since its inception in 2015. Participation and performance of 108 sun salutation in IYD with Yoga Niketan for three years.
● Life Spring Conducts many yoga sessions during YID for public and corporate organizations for the welfare of society.
● Organized an exhibition on the history of Yoga from the beginning to the modern time
● Organized sun salutation from Sunrise to Sunset
● Organized Workshops on various medical conditions
● Organised workshop on executive stress management.
● Participated International yoga therapy conference organized in Bali, Indonesia in September 2019 as a supporting institute.